It's not so much by choice that I cover a lot of iOS related stuff when I do my daily posts, it's just that this platform pumps out a lot of titles that I believe would appeal to you folks! :D
Having witnessed the release of Wrestlefest a couple of days ago we now also have Midway Arcade from Warner Bros. Interactive as of yesterday. My first impression was to instantly reminisce about Games Room on the PC/Xbox Live Arcade with it's sweet looking interface as you float around cabinet to cabinet in a virtual arcade.  At the same price as the app it's great value and well presented. Initially the game comes with a few classic titles like Rampage, Joust, Spy Hunter, Arch Rivals and a slew of non-arcade-game games like Air Hockey and roll ball.
Midway Arcade is available on the App Store as a universal app (App Store Link), but it's on a special introductory price of AU $0.99c so get in quickly before the price goes up! The in-app purchases included with this release are two game packs: the first comes with Gauntlet 1 & 2 and Wizard of Wor and NARC, Total Carnage and APB comes with the other one.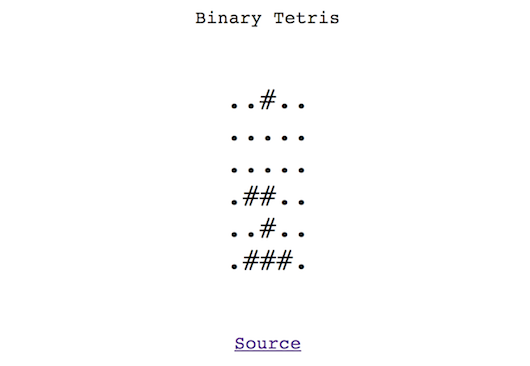 Tetris is hands down the most played puzzle game in existence.  It has been spawned on just about every single platform known to man but today I'll be referring more to Tetris developed in 140 bytes or translated to 140 characters in a Tweet on Twitter.  After having a brief play with it I must say it may not be the best looking or best "port" of Tetris, but it did however impress me how it can be played with such minimal code.
Perhaps the appreciation for Tetris extends to decorations in your house? If it is your thang then check out these Tetris lamp lights which were spotted and announced at a Toy Fair recently in the US. What is so cool about these is that you activate the light inside by placing a piece on top of another!  Tetris lamp lights will be available for sale worldwide in September, so hopefully that gives you enough time to decide where to put this thing in your house or office! :)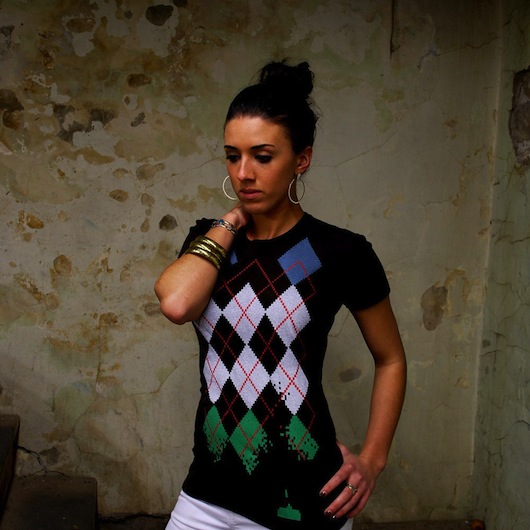 Need a new shirt to add to your collection?  This Etsy store has for sale some cool looking Argyle shirts with a twist- you have a little Space Invaders ship destroying the "pixels"! The shirts are available in Men's and Women's sizes.
To finish up for today for anyone who appreciates the Game Gear as much as DX did on the 321 Show Episode 2, Andriasang has word (or more translated from Famitsu) that the 3DS eShop will be introducing Game Gear games in mid March in Japan. The three initial titles mentioned so far are Sonic & Tails 2, Shinobi, and Dragon Crystal. Good! I'm glad that more platforms are being introduced on such services, I just hope the frequency of the games improve over time is all.