Finally it's Friday! Time to get on with some gaming this weekend if you can, even an hours worth in a day is healthy for some reason or other.  Just do it! Okay, let's get on with today's post. :)
What started as a Japanese exclusive game on the Super Famicom, Umihara Kawase (海腹川背) is a series of puzzle platform games, wherein you play as a girl with a grappling hook which lets you reel in enemies to throw into your backpack, and also grappling onto platforms and ledges to get through each level. To gamers who have played other titles in the series on the Playstation, Nintendo DS, or PSP have reported that the titles aren't as faithful or haven't got that pizazz, the original one has.
Regardless, the series continues with a recent announcement from leading Japanese gaming magazine Famitsu of Sayonara Umihara Kawase coming to the 3DS. From the screenshots themselves, the game looks to be resembling more like the Super Famicom version visually and with the same gameplay. Probably because the original developers of Umihara Kawase on Super Famicom are reuniting to develop this game.
Sayonara Umihara Kawase is planned for release in around June-September (summer in Japan).
There are two titles coming out this week on the new Nintendo consoles from the older days. One of them is Legend of the River King which is a fishing RPG that came out on the Game Boy Colour from Natsume (Harvest Moon and Pocky & Rocky). Of course the game made its debut on the Famicom from 1990, which then spawned onto PC Engine (or TurboGrafx-16), Super Famicom (SNES), Playstation and of course Game Boy as mentioned above. Not much to it except catching big fish to upgrade your fishing gear to keep getting bigger fish.
Meanwhile over on the Wii Virtual Console, Neo Geo classic Metal Slug 4 makes its appearance. I've mentioned past ports of Metal Slug which have been released on iOS and Android, so not much more can be written about this game except that you can play it on the Wii or Wii U.
There's a new Angry Video Game Nerd video released yesterday, this time covering the SNK top-down shooter Ikari Warriors which funnily enough stars Ralf and Clark (who later appeared in the King of Fighters and Metal Slug series). Of course this game has been released on MSX, Apple II, Atari ST, 2600, 7800, Amiga, Commodore 16, 64, Amstrad CPC, ZX Spectrum and NES (which is the version that Mr Rolfe covers).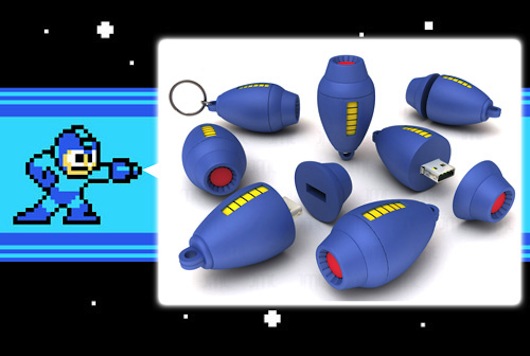 Finally, if you're in need of a new USB stick and are a fan of the Megaman/Rockman games then listen up. Capcom Store are now accepting pre-orders for their USB Mega Buster. This 8GB USB Stick in the shape of Megaman's stock standard and renowned weapon contains the following digital items on there too:
– Udon's Mega Man Tribute Art Book
– Mega Man X Official Complete Works Archie Comic's Mega Man Comic Book issues #1-#4
– Street Fighter x Mega Man official sound track, wall paper and
– And the latest version of the hit game Street Fighter X Mega Man
Be warned, there's a limited supply as it's an
exclusive to the Capcom Store so get in quick! In addition to that, you may get prompted to get a Mega Man lanyard for an extra USD$2.00 instead of the $9.95 quoted. The USB Mega Buster is USD$19.95 and will be shipped sometime in the 2nd quarter of this year.